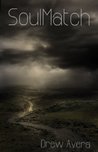 SoulMatch by Drew Avera
My rating: 3 of 5 stars
I enjoyed the story until it reached its climax. At that point, I got confused. Even after giving myself several days to reflect on it, I'm not sure what happened. I've read other works from this author (from The Collective) and I know he's the real deal, so I really hate to give Soulmatch 3 stars, but I didn't get the satisfaction from this book that I got from reading his other work b/c I was just lost.
SoulMatch is very much a story about the human condition, and about faith and consequences. I do enjoy stories like this, and that aspect did come through. I think it could have had a greater emotional impact if I wasn't distracted by trying to figure out what was going on. To be fair, I don't read a lot of Science Fiction, so maybe there's some genre convention causing a gap I'm not able to leap across. Or maybe uncertainty was the author's intention.
In any event, if you like sci. fi. stories that examine faith and love and consequences, stories that really make you think, then you'll probably like this one.
Get your copy of Soulmatch at Amazon.